🔥Endless Versatility, Safeguard Your Adventure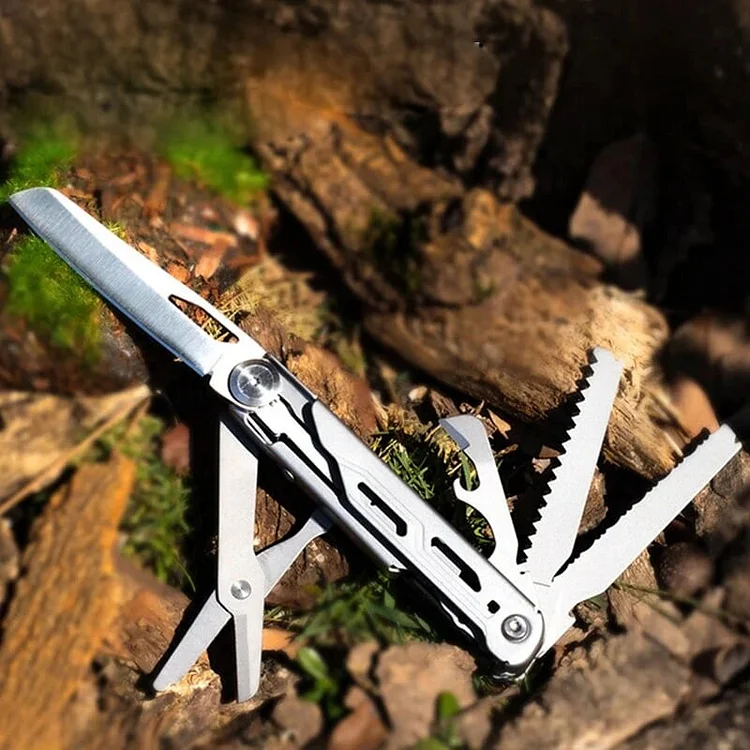 🔥Endless Versatility, Safeguard Your Adventure
All-IN-ONE MULTI TOOL: Serrated Knife,Can Opener,Fish Hook Remover,Bottle Opener,Saw,Glass Breaker,Knife Blade,Wire Stripper,Scissors.It is an improved tool pack in a slim design.
SAFE: When we develop a tool, security is always our top concern.Made of stainless steel, the tight shaft ensures the safety of the product and protects our hands. Keep hands safe from blades and tools with the locking system for worry-free use.Dolphin mouth scissors to avoid secondary stabs and secondary injuries.
SUPERIOR QUALITY: High quality stainless steel 440A/420 construction is strong and durable. It has high hardness, corrosion resistance, sharp blade, easy cutting, and basically meets the needs of daily life. It adopts a lever spring design for low-effort operation. As long as the daily cleaning and maintenance is done, its life will be very long.
CONVENIENT: It comes with a high-elastic back clip that doesn't take up space in a small size. It can be attached to a belt or hung from a backpack at your fingertips. It enables a variety of tools to carry around, and multiple functions to cope with the various conditions of life.It's a great companion for outdoor hiking, backcountry camping, self-driving off-road.Since the knife is compact- it can be stored in the truck, car or the boat to be available for you at any emergency event.
COOL GIFT FOR SOMEONE: If you're choosing gifts,this is a great option. This is a cool tool for campers, explorers or outdoor workers. It can be given as a gift to your son, brother, father or boyfriend on birthdays, anniversaries, Father's Day and Christmas, etc.
TACTIMAN 9-in-1 Multi-Pliers
We believe you clicked into this link looking for a practical, sturdy, quality multi-tool. Then you have made a wise choice by clicking on this link, and our multi-tools are sure to please you. Our tools are built to last. With our TACTIMAN multi-tool knife on your belt, you will be unstoppable. This tool is in great demand for campers, hikers, hunters, fishermen, and tourists. Also this is a perfect everyday carry knife for men and women.
KNIFE
When you are outdoors or camping, what if you want to get some branches, but you have no tools? That's when you can pull out our Tactiman Multitool to solve your immediate needs.Our multi-tool is for real life.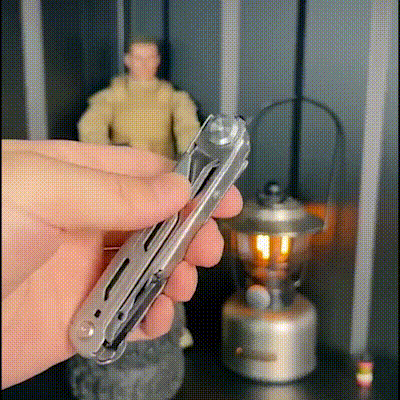 SERRATED KNIFE
During camping, maybe we need to saw some rope.At this time, the choice of a small serrated knife can help us to get the job done with ease.Serrated knives are durable and can be used for outdoor emergencies and easy cutting.
CAN OPENER
It is sturdy and durable. Using the principle of mechanical lever, opening cans is easy and labor-saving. Universal size cans, easy to enjoy, can be used to open can lids, milk powder can lids, etc. Allows you to enjoy instant deliciousness wherever you are.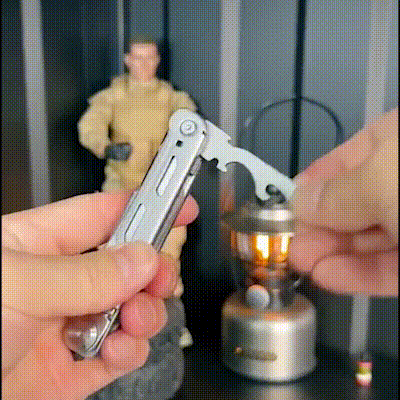 BOTTLE OPENER
This feature turns on wine, beer, soft drinks, soda, Coca-Cola, and more. Perfect for professional bartenders or home use, and even better for those who want to crack open a beer or drink while camping or hiking.
SAW
It is five times sharper, and the saw will not get stuck in the end. Suitable for sawing firewood,boards and branches, etc. It can make the cut surface smooth and not rough, and the cutting is smoother.
SCISSORS
It is a good companion for going out activities.The dolphin mouth first aid scissors can be used for cutting thread, cutting seat belts, gauze, etc. The dolphin mouth design at the tip of the scissors makes it difficult to stab the wounded during first aid. Actual little functions serve a variety of needs.
WIRE STRIPPER
Although it is small in size, it has many functions and is suitable for a variety of scenarios. Its advantages are that the wire is stripped quickly, the incision is flat, the wire is easily stripped, the inner core is not damaged, and the cutting is easy and sharp.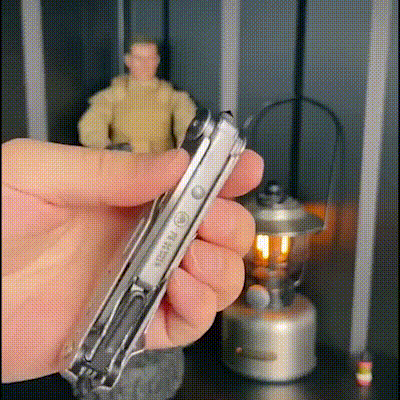 Size
Length: 10.7 cm
Width:1.9cm
Height:2.3cm
Weight: 4.94 OZ/140g
Materials
420 Stainless Steel
440A Stainless Steel for Knife Blade and Scissors
Product Features
440A stainless steel
Full lock tools
Tungsten Glass Breaker
Instructions for use of scissors
Unfold the scissors until the lock button pops up into place
To Close Scissors, depress safety lock button and then press on the smooth body of the scissors to fold them back into handle.
If you're not 100% satisfied with the items you received, please Contact Us within 7 days of receiving them to initiate the return process.
RETURN POLICY